Your Trusted Partner for DEA Compliance
DEA registrants play an essential role in maintaining the integrity of controlled substances distribution. Our dedicated DEA Regulatory Compliance practice offers the expertise and support you need to navigate the complexities of DEA regulations effectively.
Why Choose Us:
Industry-Leading Expertise: Our team of former DEA attorneys, compliance specialists, Diversion Investigators, and Special Agents are recognized experts in the Controlled Substances Act (CSA) and the Code of Federal Regulations (CFR).
Tailored Solutions: We understand the unique challenges you face. Our experts collaborate closely with you to develop personalized strategies for compliance success.
Risk Mitigation: Noncompliance risks are high. Our guidance helps identify potential pitfalls and ensures proactive measures are taken.
Enhance Protocols: Even well-established protocols can fall short. We conduct thorough assessments to ensure your anti-diversion measures are effective.
Engage with Regulators: Proactive engagement with regulators is essential. We help you build clear communication channels and minimize litigation risks.
Our Comprehensive Services:
Anti-Diversion Program Compliance Review: Rigorous assessments ensuring Controlled Substances Act (CSA) and the Code of Federal Regulations (CFR) compliance, including Suspicious Order Monitoring System (SOMS), policies, procedures, and training.
Anti-Diversion Program Creation: Tailored anti-diversion measures for new registrants or comprehensive overhauls, including policies, Suspicious Order Monitoring System (SOMS), training, and continuous support.
DEA Registration Application Assistance: Smoothly navigate DEA registration, compile binders, and prepare for pre-registration inspections, including mock inspections.
DEA Regulatory Compliance Trainings: customizable trainings: live, virtual, or hybrid options to empower your team and ensure sustained compliance.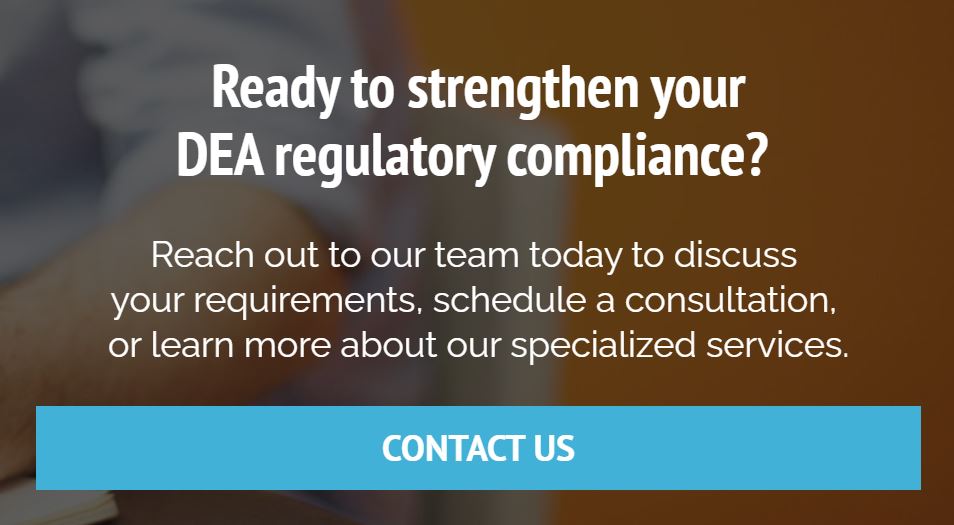 ABOUT GUIDEPOST
We are a diverse, global team of investigators, experienced security and technology consultants, and compliance and monitoring experts. We provide solutions that help companies, government agencies, individuals, and their counsel solve problems, mitigate risks, resolve disputes, and protect lives, assets, and reputations. Our brand is built on the collective strength of our team, and is based on the experience and reputation of the individuals who make up that team.
Our team includes former federal prosecutors from several U.S. Attorney's Offices, intelligence officers from the Central Intelligence Agency, former Special Agents from the Federal Bureau of Investigation, Drug Enforcement Administration, Department of Homeland Security, and U.S. Secret Service. We also have others with proven backgrounds in security, investigations, technology, law enforcement, and public safety.