Something wonderful happened this summer. We welcomed a group of four student interns from the Development School for Youth (DSY), an All Stars Project, Inc. program that uses the developmental power of performance to transform the lives of youth from poor and underserved communities, in partnership with caring adults, giving everyone the opportunity to grow. The immersive, paid internship lasted for five weeks. While Guidepost has sponsored DSY interns for many years in the Northeast, Central and Pacific regions of the U.S., this was the first-ever virtual internship program, and we are pleased to report a positive outcome.
Interns Edward Jue (Accounting), Alyssa Lerner (Marketing), Jenny Li (Security Consulting), and Jaylen McDonald (IT), were paired with a Guidepost supervisor based upon their individual areas of interest. Each worked on assigned projects – ranging from creating an invoice tracker, to developing an email marketing campaign, providing IT tech assistance, and more. They also sat in on departmental meetings and were given the chance to offer their ideas.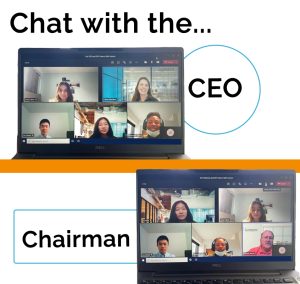 In addition to working within their respective departments, the group had the opportunity to participate in "Chat with the Chairman" and "Chat with the CEO" discussions, giving them the chance to ask Bart Schwartz and Julie Myers Wood about their careers and ask for advice for succeeding in the business world. They also took part in training programs focused on improving interviewing skills, creating compelling presentations, and a communications workshop that touched on active listening skills, identifying, and adjusting to the variety of communication styles in the workplace, and working effectively in teams. Each intern was also given two opportunities to present to the entire company. At the beginning of the program, they introduced themselves and spoke about their families, personal and professional interests, and goals. At the close of the program, they shared highlights of their time with us — what they learned and with whom they met and built relationships.
We have no doubt that these impressive young people will reach their educational and career goals. Not only are we grateful to have had an opportunity to play a role in their journey, but we are also happy we had a chance to learn and grow alongside them. We look forward to our continued partnership with the All Stars and our newfound relationships with Edward, Alyssa, Jenny, and Jaylen.